The Fire (Enthusiasm) of Costume College Burns Bright
So upon my return from costume college I was all fired up!
My partner in crime, Anne of the Library fueled my fire with her medieval creations and theater costuming. Talking with Anne of the Library, we decided maybe a workshop of sorts should be scheduled...
But who in the would is going to come all the way to Alaska for a workshop?
Wouldn't it be super expensive just to bring the instructor up and house them in a hotel?
Oh and wait, we have to pay them for the class!!
Wheels a-turning I said 'it won't hurt to try' and an email went out to the amazing
Feather Tippetts
whom I had met at CoCo. Pricing and availability was discussed and seemed a real workshop seemed possible (she also was agreeable to staying at a students home).
Emails went out and posters were developed and put all over town at the few sewing and craft stores Anchorage boast. Return emails and calls trickled in and we finally had the mandatory 12 participants to make the class happen (at a reasonable price). The Georgian Workshop was scheduled for the 2nd weekend of December.

It was arranged as a four day work shop in which we created a pair of stays (corset of the day) and a dress (robe a l'anglaise or robe ala francaise) or short jacket (two days for each item). We were provided with directions for sewing our chemises in advance and we counted down to December of 2012.
As mentioned in my previous post, my husband and I had a little girl in July of 2013. Upon my 6th week of pregnancy (mid November 2012), thankfully after our return from the gorgeous island of Honolulu, Hawaii (a paid for trip from my husbands job, yay!!!); I became ill with horrendous morning sickness. Ack!
Anyway, although I had planned the workshop and all speaking events to the hilt. I could not carry out some of the much needed errand running or troubleshooting. Anne of the Library stepped in and was my savior and Abby of the Plains was my chauffeur and best buddy during my bouts of sickness which kept me nauseous (either on the floor or in the bathroom) during down time at the workshops and events.

Below is a pic of the speaking event at the local Library;
What Our Fore-mothers Wore (A show and tell)
Sorry about the graininess and distance of the photo. I put my husband in charge of taking pictures and this was the best of the three he happened to take!
Despite all of the sickness (I was later diagnosed with
Hyperemesis Gravidarum
) I was able to sew 90% of both my stays and my robe ala francaise gown.
Both the stays, gown and side hoops have sat in my UFO pile until recently.

Honestly, the hardest part of the stays was cutting the reed to go in the channels. I will be creating a new pair slightly smaller as I lost the baby weight and my current stays are to big.
I'm still working on the Gown and petticoat.
The fabric from this dress inspired me.
Dress: ca. 1760-1790, copperplate printed linen in a floral pattern. Shown with fichu and engageantes. Worn by Deborah Sampson (Gannett), (1760-1827), possibly as her wedding dress.
I adored Deborah Sampson as a child; a young woman who dressed as a man and served in the revolutionary army! These are the stories that helped me fall in love with history and the little stories that get passed over and or forgotten!
Below are the in progress photos (ignore the time date my camera is screwy):
I still need to finish the hem, stomacher and trim on both the dress and petticoat.
The Patterns used for both the stays, gown, and hoops were J.P. Ryans:

Stays
Strapless stays, designed for comfort, give a cylindrical shape to the torso and allow full freedom of movement of the arms and shoulders. One size per pattern. Fully illustrated directions included for any necessary alterations required to fit your figure. Comes in sizes 6 through 24 for bust sizes 32-50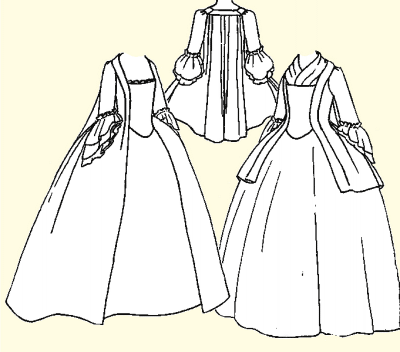 Pet-en-l'air or
Robe à la Française
The pet-en-l'air has a fitted torso without front waist seam, and a pleated sack back that extends from neckline to hem. The fit of the bodice is controlled by the lining; it has an under stomacher that laces closed in the front and ties to adjust the back. Pattern is for pet-en-l'air, three sleeve flounces and stomacher only. Instructions are included for extending the pet-en-l'air into a gown and for constructing a shaped petticoat which will hang evenly over pocket hoops. Available in sizes 6-8 through 22-24.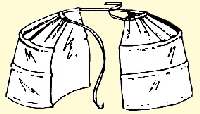 Pocket Hoops
Boned hanging pockets which tie around the waist. One size fits all. Ideal for ball gowns. Hoops collapse for ease of movement and storage.
Georgian or Colonial isn't really my favorite era but the clothing was quite beautiful.
Food for thought...

Until Later Toodles!